Exterior Paint System
Our Exterior Painting System:
The techniques vary slightly, depending on whether your home is made of block, stucco or wood. The condition of the surfaces also dictates the technique we use. However, the process shown here illustrates how thoroughly United Painting approaches every project.
Step 1: Inspection
A complete inspection is done and we assist you in selecting appropriate products and colors appropriate for your home.
Step 2: Trenching

Where necessary, we dig a 4-6 inch trench along the foundation wall and apply a moisture-proof coating below ground level to ensure that moisture won't peel the paint from the inside out.
Step 3: Pressure Washing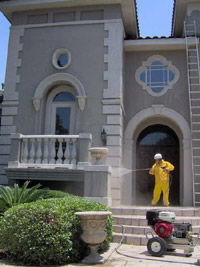 Many surfaces require a power "Hydro-washing" with a mildecide to expose surface defects, and remove chalk and debris.
Step 4: Rotted Wood Replacement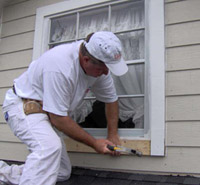 Non-structural rotten wood will be replaced or repaired to ensure smooth painting surfaces.
Step 5: Scraping & Feather Sanding
Loose paint is removed and the remaining paint is feather-sanded to eliminate rough edges.
Step 6: Caulking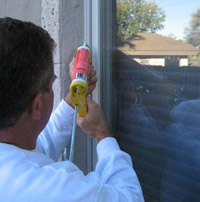 Windows, door frames and fascia board joints and open seams on all woodwork will be caulked to avoid moisture and prevent peeling.
Step 7- Masking or Shielding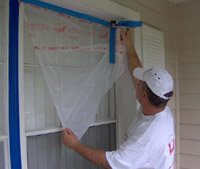 Windows and doors are masked to prevent overspray. Landscaping, fencing, decking, and air conditioning units are covered and protected.
Step 8: Primer or Sealer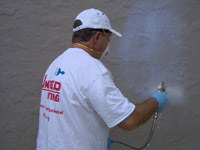 A specially formulated primer / sealer is applied for durability and to provide a good base for the new paint.
Step 9: Seal Masonry Cracks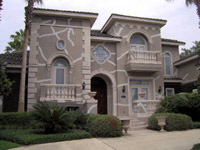 Seal Masonry Cracks: We seal all cracks to provide a flexible, durable and waterproof seal. This system will fix imperfections by creating an even finish.
Step 10: Samples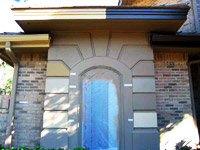 We will apply color samples prior to painting for your satisfaction. We will assist you in selecting appropriate colors especially for your home.
Step 11: Finish Coat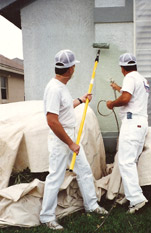 Paint is brushed, rolled, or sprayed on as determined by qualified technicians using only the highest quality products.
Step 12: Completion Certificate
To ensure your satisfaction, you will be able to look at all the work before signing a Completion Certificate.