Interior Paint System
Our Interior Painting System
United Painting takes all the right steps to ensure beautiful, long lasting results.
Step 1: Inspection.
A complete inspection is done and we assist you in selecting appropriate products and colors, especially for your home.
Step 2: Remove Wall Furnishings.
We carefully remove all items from walls, including draperies and wall coverings.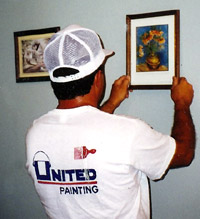 Step 3: Move Furniture
United Painting does all the work. Furniture is moved away from all walls to be painted. The furniture is protected with brand new plastics.
Step 4: Cover and Mask.
United Painting removes all wall plates and switch covers and protects all fixtures and hardware. Floors will be covered with clean drop cloths.
Step 5: Patch and Repair
All surface cracks are filled and cleaned with a special material to ensure a good bond. We remove picture hooks and patch holes behind items that will not be returned to their original location. We will retexture the patches if necessary.
Step 6: Prime as Necessary
United Painting primes any stained areas to prevent "bleed-through." An even surface is then created for painting.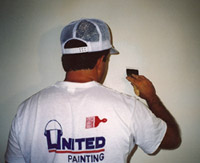 Step 7: Paint Walls
We brush, roll or spray as determined by the surface and the area. One, two, or more coats are applied as necessary.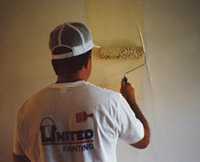 Step 8: Paint Interior Trim and Doors
United Painting specialists pay attention to detail on woodwork and doors. We apply one, two or more coats as necessary.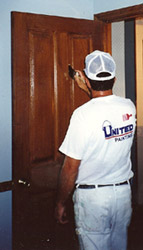 Step 9: Completion Certificate
To ensure your satisfaction, you will be able to look at the work before signing a Completion Certificate.
Call us at (407) 291-1788